Hardware Reasons:
You may have to delete offline outlook data file, if your hardware fails in saving or transferring the data of OST files, OST files will likely get corrupted. Hardware failure are mainly of three types:
Storage Device Failure
There are sectors in hard disk which is used to store data. If your hard disk is having some bad sectors and OST file is saved on these sectors. Then you will not be able to read the file or data you read will all be shown incorrect and full of errors to you.
Network Connection Failure
During synchronisation of OST file through a network connection with the server if in between this process any physical damage is made to cables, routers, hub or interface cards, then sync of OST file will be aborted which makes OST file corrupted.
Power Failure
If a power failure occurs when you are synchronizing or accessing the file. This can damage your OST file.
Software Reasons:
There are also software related issues which corrupts OST file
Virus Intrusion
Many malicious software or program can infect and damage Offline outlook data file or make it inaccessible
Terminate Outlook Abnormally
If you do not close Outlook properly or in case of power failure your Outlook is shut down when it is busy in performing some task, or you turn off computer without exiting Outlook and Windows normally can damage your OST file
Synchronization issue
Synchronising between the offline folder and the Exchange server when the connection is re-established may also lead to several errors including conflicted items, or unable to open a particular item in Outlook.
Outlook issue
Outlook program allows OST file to grow up to certain limitation. But nowadays communications and information grow so quickly that OST file size increases dramatically beyond this limit. In Outlook 97 to 2002 the limit is only 2 GB. You can configure the size limit of OST in Outlook 2016, 2013, 2010, 2007 or other versions, but when it grows very large it will get corrupted
There are various situations in which your important OST file gets corrupted. When it becomes very difficult to recover back the OST file or if you don't want to recover it or no longer have use of it. It is suggested to delete corrupt OST file and free up storage memory so it can be re used. To delete Offline Outlook data file follow the instruction mentioned below
Look Steps to know how to delete OST file
Step 1. Exit Outlook properly if it is running
Step 2. Click Start and choose Run option
Step 3. In the window that appears (Run Window) type the following command
%APPDATA%\Microsoft\Outlook\"
and click OK
Step 4. An Outlook window appears, navigate to OST file that you want to delete or remove it. Right Click and select Delete option or select it and press Del key from the keyboard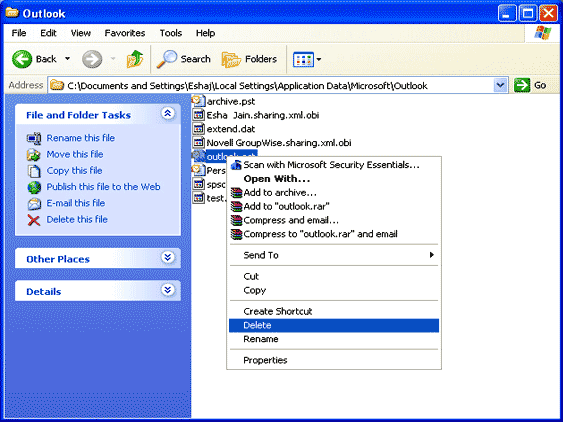 Conclusion
The above steps describes how to delete OST file. But what if you deleted OST file and now you want it back to view OST data file. You need not to worry you can easily restore deleted OST file even if it is permanently deleted or accidentally removed from storage due to hard drive crash or any other reason.